SEO Reports Made Easy
Automatically Create White Label Interactive SEO Reports That Work On Desktop, Mobile And Tablet Devices.
Get Your Free 14 Day Trial
*No Credit Card Required. Get Started Straight Away.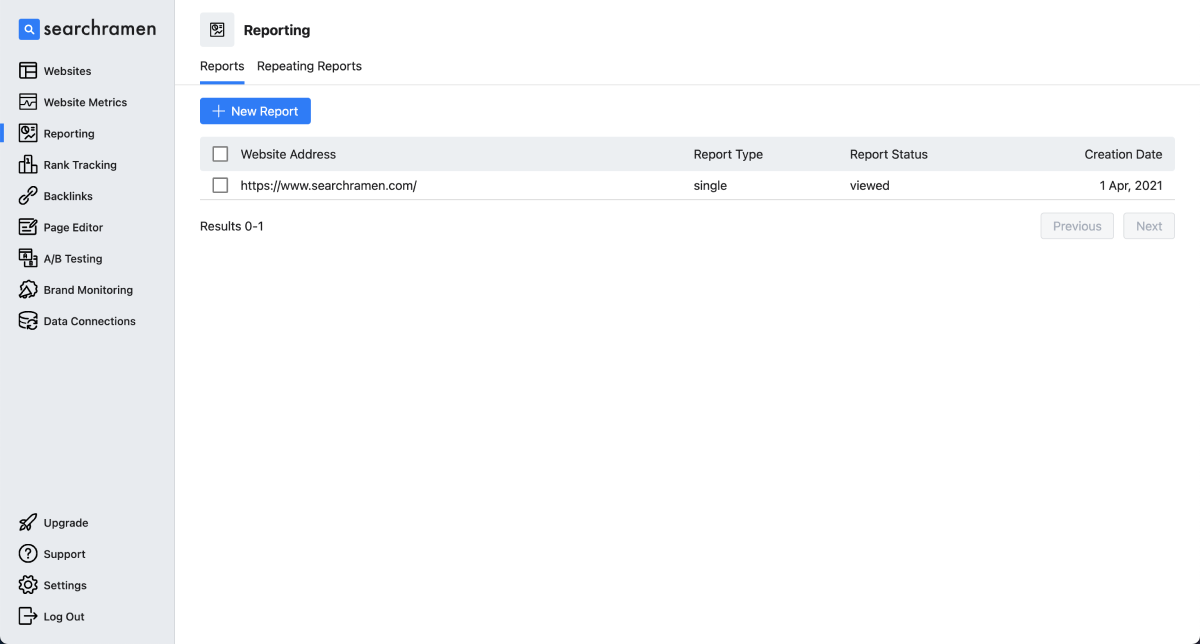 Join the internet's largest websites using Searchramen for Reporting


Our SEO Report Features
White label branding
Add your company logo to your reports.
Interactive charts
Charts support mouse hover or touch events to show more information.
Desktop, mobile and tablet optimized
Reports are fully responsive and work across all devices with 99.98% browser compatability.
Full email integration
Searchramen automatically emails reports for you with your company logo and name.
One click sharing
Easily share your reports using a coded private url.
Ready to go report template
No need to add modules or customize your reports. Searchramen tested 127 designs to produce a report website owners love.
Create reports instantly
Once your website is synced, report creation is instant and easy.
Frequently Asked Questions
What is an SEO report?
An SEO report is a document which shows your organic search performance over a predetermined time period. This time period is usually weekly or monthly. Searchramen supports automatically sending reports either daily, weekly or monthly.
What should an SEO report include?
An SEO report should include major performance metrics, demographics information, important page data, keyword data and a short comment about the performance or contents of the report.
How to generate an SEO report for your website?
You can easily generate an SEO report using the reporting section inside Searchramen. Searchramen includes options to schedule reports on either a daily, weekly, monthly schedule or manually for any time period and date.
How to make SEO report for client?
You can make an SEO report for clients using Searchramen. Our report template covers major metrics, demographics info, keyword data and page data that are great for either internal teams or clients and requires no customization or setup. You can also add custom branding such as your company logo and custom comments for your clients describing work completed or notes for the report period.
Can I add text or write comments for my report?
Yes. Just click on the "add comments" button inside the report view and you'll be able to add text or comments to the top of your report.