Rank Tracker
Innovative SEO Rank Tracking That Automatically Sorts Your Keywords by Top, Improved, Declined, New and Favorites
Get Your Free 14 Day Trial
*No Credit Card Required. Get Started Straight Away.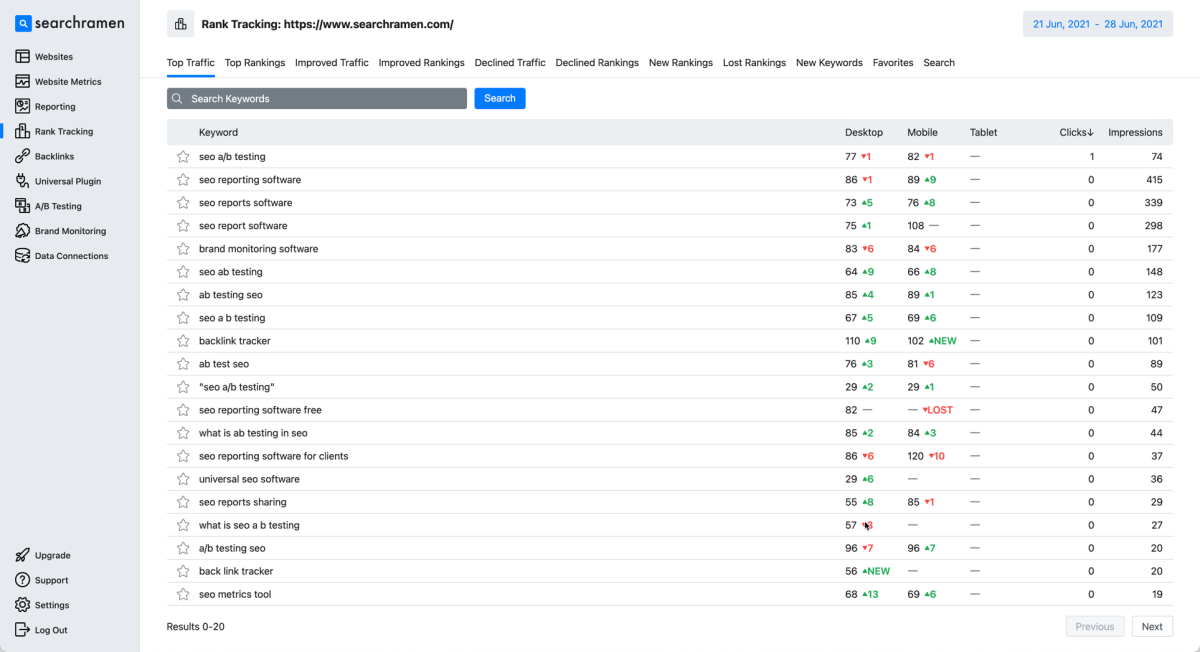 Join the internet's largest websites using Searchramen for Rank Tracking


Monitor and track your keyword rankings
With Rank Tracking, you can track your keyword positions for desktop, mobile and tablet over any time frame. Easily sort by top keywords, most improved keywords, new keywords, declined keywords and favorites. Also, easily add keywords to favorites which helps you track important keyword positions.
Device Positions Tracked
Keyword Ranking Sorting Options
Top Traffic
Top Rankings
Improved Traffic
Improved Rankings
Declined Traffic
Declined Rankings
New Rankings
New Keywords
Lost Rankings
Favorites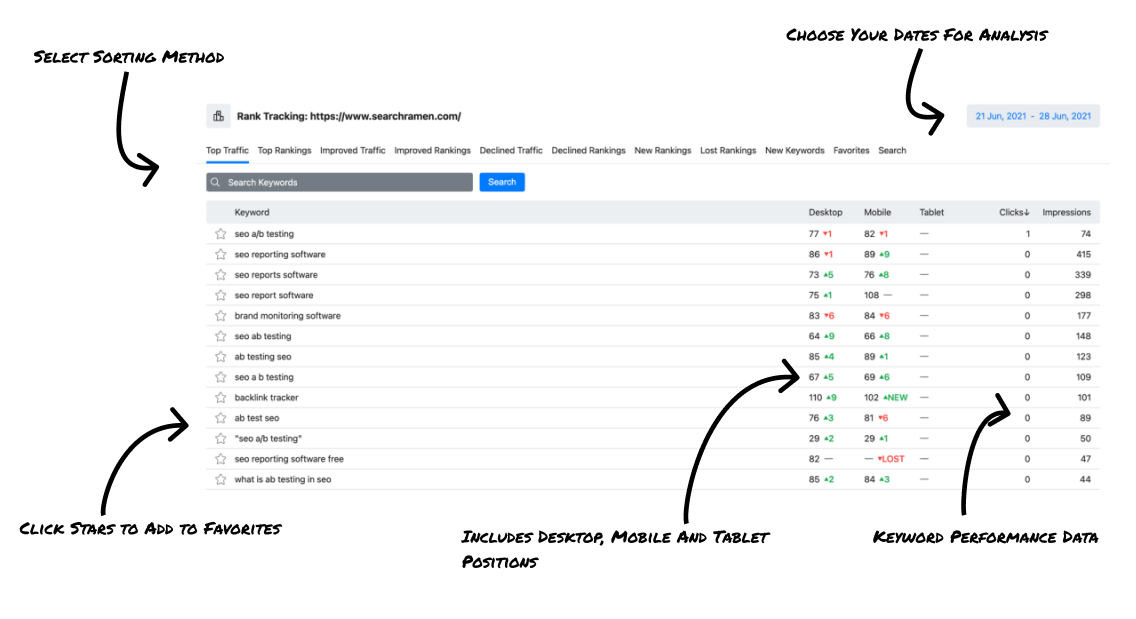 Frequently Asked Questions
What is rank tracking?
Rank tracking is measuring the position of your website on the search engine results page for a given search term (keyword).
How to track local keyword ranking?
Local keyword rankings are tracked through Searchramen by only showing impressions for results shown locally or through modifiers e.g "searchterm cityname". Searchramen specifically uses Google's click and impression data for your website which will only show data when searches are performed locally. Local searches outside of your area will not show up due to google's algorithm leaving your ranking data accurate on a locality scale.
How do I find my ranking?
Searchramen automatically syncs your ranking data from Google. This means you'll be able to find all the search terms (keywords) your website has ranked for.
How to check SEO rank?
Searchramen automatically records your rank for desktop, mobile and tablet devices so you can easily see your keyword positions.
How do I know what keywords I rank for?
Searchramen automatically records all keywords you've ranked for and sorts them by top (keywords with the most clicks/impressions), improved (keywords that have improved in ranking and clicks/impressions since last period), new (keywords that have just started showing your website in searches), declined (keywords that have decreased the most in position or clicks/impressions) and favorites (important keywords that were added by you through our user interface). Searchramen also features an easy to use search function to find any keyword you want more ranking data on.