The All-In-One SEO Tool for Websites
#1 Rated SEO Tool for Website Owners, Marketing Teams and Agencies.
Get Your 14 Day Free Trial
*No Credit Card Required. Get Started Straight Away.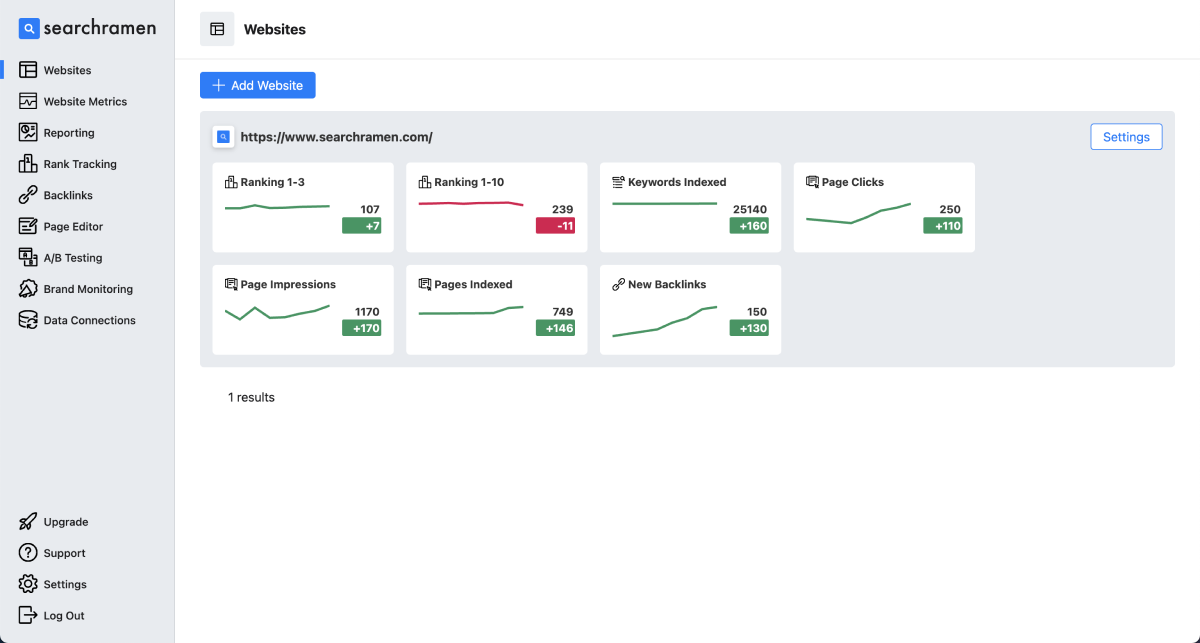 Join the internet's largest websites using Searchramen to improve their SEO


How Searchramen helps you with SEO
1
Monitor
full visibility into your key SEO stats with reports and metrics
2
Edit
edit page settings inside searchramen for any website by adding one line of javascript
3
Improve
run a/b tests to find out if your SEO tactics and strategies are working
4
Share
easy one click sharing of reports with the ability to add comments for stakeholders or team members
What you can do with Searchramen
View key metrics
View ranking 1-3, ranking 1-10, pages indexed, keywords indexed, new backlinks + other stats.
Generate reports
Generate individual reports or recurring reports with email reminders that show all key SEO stats and metrics.
Track and sort keyword rankings
Automatically track all keyword positions and sort by top, improved, new and declined.
Track and sort backlinks
Automatically track all website backlinks with traffic stats and sort by top, improved, new and declined.
Edit title/description tags on any website
Install our javascript page editor and universal seo plugin to modify title and description settings on any page.
Run A/B Tests
Run time based SEO tests on a website, page or keyword and get impression, click, ctr and position differences
Track brand keyword data
See brand impression and click performance over time using your SEO data.